Monday night during the traditional water festival in Cambodia's capital city of Phnom Penh, a stampede killed 339 people and injured 329.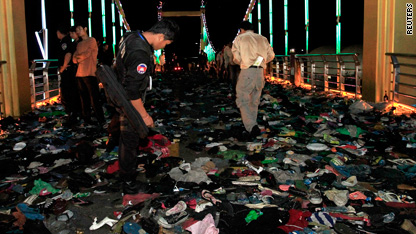 The scene shows hundreds of shoes, clothing and other personal items littering the streets, the bridge and the underlying water near where the festival took place.
According to
CNN
, the stampede, which began around 10 p.m., likely occurred because a suspension bridge packed with people began to sway, creating panic. Reports cite people jumping from the bridge into the river below. Police then began firing a water cannon onto a bridge in an effort to get them to continue moving across the bridge; that caused utter panic. A number of people lost consciousness and fell into the water; some may have been electrocuted, as the bridge was festooned with electric lights.
I cannot even begin to imagine the hospitals shortly following the incident, and my first prayer was for the doctors and medical staff that would be attending to the injured. According to CNN, "Dozens of people could be seen laying on what appeared to be the waiting-room floor of a hospital. They were attached to intravenous lines connected to bags strung along wires suspended in the air."
The three-day festival, which began Saturday, is held annually to honor a 12th century victory by Cambodian naval forces. During the festival, which includes boat races, participants pray for a good rice harvest and sufficient rain, and to celebrate the full moon.

This is the biggest tragedy since the Pol Pot regime, during which an estimated 21% of the population died in waves of murder, torture, and starvation. My heart is breaking; though I am thankful to have already heard from friends that report they were not in attendance. Please keep Cambodia in your prayers. The prime minister has declared Thursday as an official day of mourning.